About
Our family's story
We believed, from the beginning, that Sara's little life held much promise. While watching Sara Ann lie in a coma like state in the ventilator machine, all we could hold onto was the increased number of  blips as she listened to our voices. We were told that every blip over 15 was a breath she'd taken of her own volition. When Mom talked she went up to 50, and when Dad, who was able to visit less often, spoke, she went up to 80! We believed she could hear us, that she was relating to us and most important that she wanted to live.
We lived at the PICU for 2 1/2 months. One of us was constantly with her. Whenever she slept we  combed  websites trying to figure out what was  available to help her. Knowing the amazing pliability of the brain we wanted to attack her problems on every front.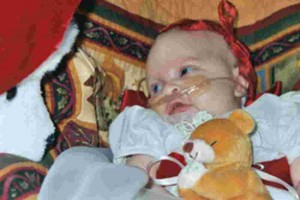 What were  her problems?
Very erratic EEG and devastating MRI tests
Very tight arms constantly moving in circles with closed fists
Tight spastic legs
Not gaining enough weight
Too deep and narrow a hard palate
Recessed chin
Inability to swallow
Inability to hold up the head, or back
An unusual diamond head  shape
Respiratory weakness
Cortical blindness
Possible deafness
Our  Plan
We knew the first thing we had to do was improve her breathing and her nutrition. (www.Mercola.com for ideas on formula make-up or additives). The  hospital largely took care of her respiratory issues while Mom pumped for awhile and then ended up tinkering with Sara's formula. She added cooked egg yolk and safflower oil, both excellent brain foods, to the mix, once again, against the advice from the hospital nutritionist. The brain is 80% fat so we gave her a diet unusually high in fat content. We also massaged her spine every night with grape seed oil, high in anti-oxidants. The oil is absorbed through the skin and aids in forming the Milan sheathes that protect the  nerves.
Alternative therapies: Next we looked for therapies that could make changes within her brain. We  learned about hyperbaric oxygen (link to www.hboxygen.com) and how  it can pass through the blood brain barrier. Apparently, it reduces swelling and  inflammation and restores cells that would normally be lost. Cerebral Palsy (CP), is the result of a one time injury. It is not a continuing  degenerative disease, however, it's unfolding manifestation does continue to  worsen over time. It seemed obvious to us, that it was the ongoing death of the  brain cells stuck in edema that caused the worsening symptoms. We understood that the injury could not be reversed but we didn't want to lose even  more cells to edema. We resolved to get Sara Ann into hyperbaric oxygen therapy as soon as possible to recover those cells.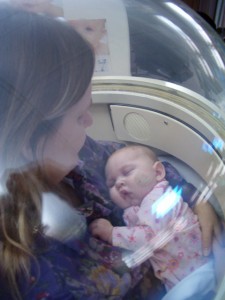 Our third step was to train the new surviving cells in the patterns that the lost cells could no longer perform. We found out about Sarge Goodchild in  Massachusetts and the exercises that had helped him recover from CP. He is  literally a  model hero for Sara to follow as he recovered himself form having over a hundred seizures a day as a child by use of patterning.. We took Sara Ann to see him at Active Healing (link towww.activehealing.org)  and set up a program for her that we could practice at home.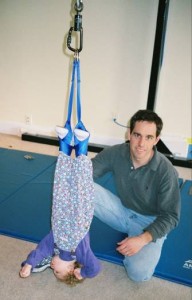 Fourth, to address her problems with, head, neck, jaw, and swallowing, we began rigorous visits to a pediatric chiropractor and cranial sacral therapist (link to www.icpa4kids.org). Their adjustments to the  spine, neck, cranium and hard palate, made a significant difference in her  recovering and maintaining a normal head shape. They decreased her arching by half or more, improved her eyesight, babbling of sounds, use of hands, ability  to hold up the head, improved her swallow, and shape of her hard  palate.
This has been followed by productive work with a swallowing  specialist, speech therapist, and a NDT physical therapy specialist.
We discovered the Transfer Factor which is derived from  bovine colostrum and builds the immune system. Her  lengthy 2 week ICU stays have so far been shortened to only 2 or 3 days since she has been taking it.
We began a new technology called Vapotherm (www.vtherm.com)  which has been a real Godsend as it has the ability of calming down  inflammation in her lungs when she aspirates. It also is keeping her out of the hospital. It works by spraying warm moist air into her sinuses via a nasal canula.
Sara Ann's Accomplishments
At 24 months old she is:
Thriving at a whopping 29 pounds
Her head size is normal and  she is 50% for overall growth
She hears quite well
Sees shapes and colors
She swallows frequently but not yet consistently
She can roll from tummy to back but not yet back to tummy
She swats at her toys and occasionally grabs them
She can crawl with lots of assistance
She's beginning to be able to raise her head
Occasionally makes 2 word sentences
She also laughs out loud for Patty Cake
Waves bye-bye
And smiles at the camera when we say "cheese"!
Note: Most of these things we'd been told would be an impossibility for her.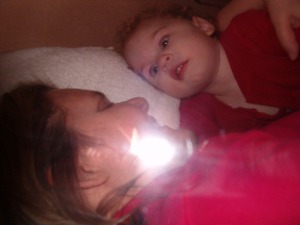 Fast forward to 2014
All of that was written in 2005. Now beginning 2014 we can say that was just the beginning of what continues to be quite a ride!
Breaking the Language Barrier
The most exciting break through to date was Sara Ann astonishing us with her ability to write words, draw and paint beautiful pictures at age 6 in October of 2009. Her teacher told her she wanted to know what she was thinking. She asked her what is your favorite thing to do? What is your favorite thing at the park? What is the one thing you want to do with Mom and Dad? Using hand over hand drawing and writing with her teacher, she led the pen and here were her answers.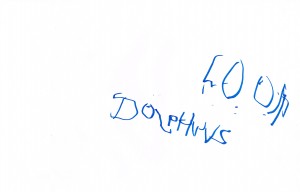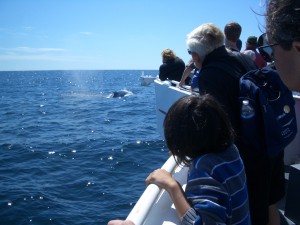 So we took her to Cape May the next week to see the dolphins. We wanted to make sure she knew that if she communicated something would happen.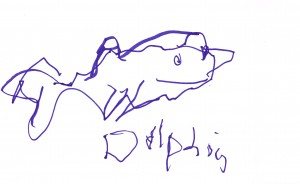 Artistic Inheritance
Afterwards Mom began learning from her teacher how to do hand over hand writing and drawing with Sara and our world began to really change as Sara's ideas began to enter into it. She became quite the artist and Mom discovered she had inherited her grandmother's, Shirley Hillard's artistic gene. "Mamoo's" work is published in her children's books at http://www.mamoohouse.com
Sara Ann asked mom to bring her beautiful bouquets from the garden which she painted.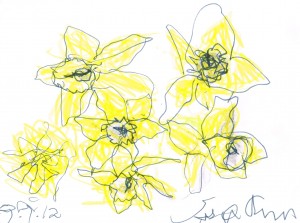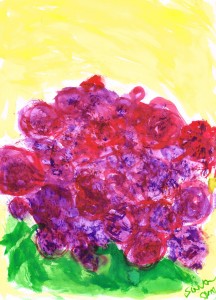 She also illustrated a few of her favorite stories from her imagination.
After reading The Secret Garden and Stuart Little
Wanting to encourage her artistic abilities, her God parents took her to see the Van Gogh exhibit at the Philadelphia Museum of Art in June of 2010. Her artwork exploded with line and color. She had learned from a master. See blog post http://friendsofsara.com/blog/through-the-eyes-of-a-child-and-article-by-hal-gieseking
At this writing Sara Ann has just completed her first real art show shared with fellow special needs artist Mali Pisa. How apropos that Sara Ann's first painting sold represents most who she has become!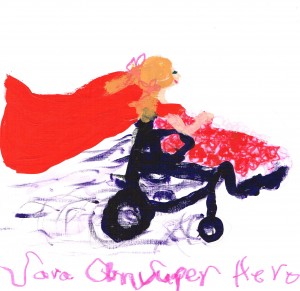 Sara Super Hero
Even though this child has what people now refer to as "locked in syndrome", still can barely speak, hold up her head or swallow… I don't think there is much that can hold this girl back! She has learned the power of words and art and she is moving forward in her life. I hope you will check out her blog where you can learn how excited she was about Helen Keller and how she wants to be just like her traveling all over the world and teaching when she grows up. Or how she asked the Make-A-Wish Foundation for a stationary bike to make her respiratory system stronger and her legs because she wants to walk!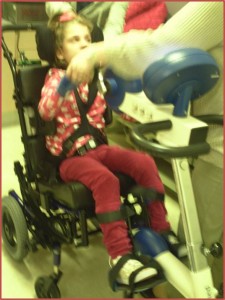 We certainly have our challenges with Sara every single day. To date at 10 years old, she has had over 150 hospital admissions. You can learn more about those too in the blog, but we also have a wonderful amazing child who believes SHE CAN. And so do we with a lot of help from our friends and God. We hope you too will become a Friend of Sara by joining her RSS feed, making a contribution to her medical fund, or volunteering. There's tons more treatments ahead so we will perpetually be needing the help of friends. Get to know a little gal with an indomitable spirit. Come along and join us, you will find it's quite a ride! Together we will learn that we really are each other's angels!
Thank you from our hearts
To the many Friends of Sara, we are forever  grateful, indebted and to you we dedicate this website. You have been our angels…Sara's angels. We hope that we too will be someone's angel, with a hug or some help or maybe pointing the way.
Melissa Perry Kronrot and Hugh Kronrot (Sara Ann's Mom and Dad)
PS
To parents of special needs children, especially babies. We know your pain, frustration and how totally overwhelmed you are. It's not the journey you bargained for but believe me there are a lot of other answers out there if you are willing to look for them. You will have to make lots of sacrifices, but isn't that why you took those vows of love anyway. You also may have to buck the system sometimes. You are on the frontline so to speak and everything will test you. But you will also discover strengths in yourself you never knew you had. We pray for you, for your strength and perseverance. And we know that there is nothing more valuable in this life than seeing the gains and triumphs of your child's progress. Contact us if you need someone to talk to. You will learn something useful from everyone. Bless you. You too are very, very special.