Here's some nice news…we actually got to have Christmas at home! Oh joy…it was very simple but it was together , sweet and homey. (Much preferred to hospitally!) Sara Ann enjoyed her little tree in her room . It started out with just pine cone decor and gradually morphed into a real little handsomely dressed Christmas tree.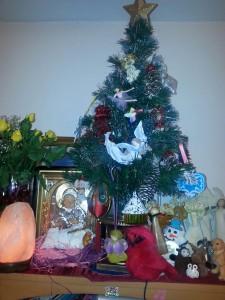 and her favorite gifts were two international dolls I found at the wonderful Good Samaritan thrift store in Westmont. Sara is like my grandmother, she likes absolutely every minute of Christmas.  This year she insisted that I take her shopping. She wanted to be a gift giver.  She also wrote 16 cards herself with a different message on every one! Boy, 10 years old is really growing up!!! She is constantly finding a way to have fun in spite of it all! She wanted to go shopping so she could see Santa personally and to buy her Mom and Dad a Christmas present. She picked out a beautiful sweater for me and a shirt and hankies for Dad. What a kid!
Oh I guess I neglected to write about her "Dragon" birthday party. She likes, make that loves, dragons because they can fly. She painted a couple of nice dragon paintings too. Here's some pics form her party.
or the cute costumes she got to wear for Halloween at the hospital. Here she is as Belle from Beauty in the Beast
and the gal in Legally Blonde.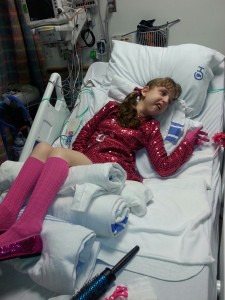 Thank you to whoever donated that boat load of costumes to the CHOP kids. My kid was never happier. She sat in her wheel chair by her room as the nurses brought goodies to her sack. Oh this was BIG fun! It was almost hard to believe we were at the hospital, everybody was having such a good time.
She has been at CHOP about every two weeks since school began, usually for respiratory colds. After seeing the movie Scrooge at the hospital, Sara Ann asked me to take her to see it live this year. It's the musical version of The Christmas Carol and luckily it was playing right down the street at our local Ritz Theater in Oaklyn. I called Bruce Curless, the Artistic Director, and explained how she wanted to come and the problem with her noisy suction machine. He said, "Why this is what we are all about!" Very generous. I had heard that he works with a lot of the Bancroft special needs kids, so it looked like we weren't foreigners after all.  We packed her up just 2 days out of the hospital and took her down there for her very first night out at the theater. They gave us a seat near the back so we could wheel her in and out to the foyer for suctioning when needed. Then they introduced her and explained to the audience that if they heard her machine it was "saving her life". No one stared at us the whole night. In fact, after the music got going it was so loud it covered up all ugly machine sounds, so we were able to stay planted in our seats. Sara was enthralled. It's been her favorite story for years. The Ritz had added a lot of dancing ballerina's from the local dance school into the show and I think that was what she liked best. The next day, she had me add a ballerina to her Christmas tree.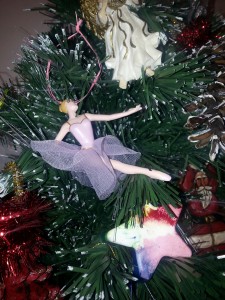 She waited for Bruce who'd just completed his 24th year playing Scrooge to come out and sign her program. He was bushed having already been in 3 other productions of Rudolph for the school kids earlier that day. It's really wonderful what this theater is doing for the kids and families in our area. To do so many shows is so exhausting…I know as a singer…been there done that! Nobody does that kind of rigorous theater unless it is just a sheer act of love. So I just want to say thank you Bruce for making my daughter so unbelievably happy….and all the other kids in the area. You are doing one heck of a great job! I hope somebody gives you all a big grant or something because you sure deserve it. We are definitely coming back and soon.
I think I am most inspired to write at Christmas. It just won't stop singing in me. Back in August I saw the Mayor of Collingswood, Jim Maley and in passing I asked, "Mayor Maley, how are you?" He responded, "Oh everyday is Christmas!" He smiled broadly and walked hurriedly on. But I stopped in my tracks. I just kept thinking…he really meant it. What a great attitude. I want to embrace my days like that too, full of the joy of Christmas. If you follow this blog you may have read some of my previous Christmas inspirations. What follows is a little gift of a poem that settled in my mind and on my heart yesterday as Sara Ann lay napping in her hospital bed."And to the earth it gave great light and so it continued both day and night"…is playing in the background as I write this…how timely!
Oh and have a the Best New Year Ever!!! (That's the kind Miss Sara said she wanted us to have and we want you to be included!)
The snow is arriving now. Enjoy it's blessing.
Much, much love and snowy peace on the 9th day of Christmas,
Melissa, Hugh and Sara Ann
"Go Back. Make tracks." a 12 Days of Christmas Poem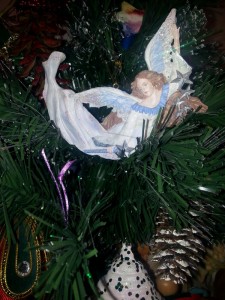 (A snowy 12 Days of Christmas Poem
Written New Year's Day 2014 in anticipation of coming snow)
by Melissa Perry, Sara Ann's mom
After the New Year rings
And the white snow falls,
Go back.
Go back in the stillness.
Make tracks.
Find again the humble abode.
The Star still shines.
The animals bay.
The Little One still sleeps,
Sound,
Amidst the hay.
The angels sing,
As joy nestles there.
The journey of the kings
Soon a completed prayer.
Shepherds guard
The smallest lamb,
A mother, her son,
And husband guardian.
Go back.
Make tracks in the falling snow.
Follow the Star
That leads you
Through the dark
To God's Covenant
Lying in the Arc,
To Hope's hope
And promise supreme,
Shines the Bright One,
The planting of the green.
The snow falls solid
The snow falls deep.
Hiding the way
From those who would reap,
Something of their own.
No, this is God's chosen.
So what is required
To worship the King
To walk down the hall
To approach the throne
Made only of straw?
It's a heart,
full of only one thing…
AWE.
Family so sweet
I sing Thee a song,
With eyes bedewed with my tears
And a heart so full
It has no more fears,
But spills forth like a bird
Soaring, singing all the night long.
Now,
Done with my full throated joy
I wait quiet with the others,
Soft and warm in the hay.
For the footfalls
Of the Wise men Three
Upon Starlight's way.
We await the bearing of their gifts,
Gold and myrrh and frankincense.
The great too shall kneel and revere
The kindness of God
As He stops here
To bring us Christmas
Amidst the snow.
Forget not the 12 days of Christmas
For all 12 are holy,
Full of the gift
From one meek and lowly
All you must do
Is follow the Star
Make your way back.
Make some tracks
And then
There you are.
The Blessing of Christmas be always with you.
Melissa, Hugh and Sara Ann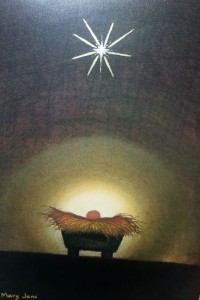 "Go back. Make Tracks."