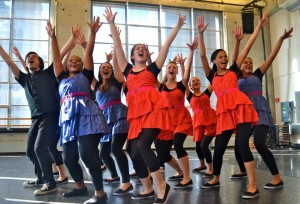 Concert Date: May 12, 2012 – 6 and 8 p.m. at Haddon Heights High School

Collingswood, NJ (April 17, 2012) – Broadway comes to Haddon Heights, NJ when NYC's KIDS THEATER perform their new fast paced, high energy song and dance "Glee" style show all in support of a little girl with cerebral palsy who lives in Collingswood. NYC's KIDZ THEATER Broadway Spectacular! will be presented at the Haddon Heights High School Auditorium, 301 2nd Ave. Haddon Heights, NJ 08035, one day only, Saturday, May 12th,  2012 with two performances —  at 6 and 8 p.m. Tickets are only $12.00 each and available by calling 856-354-1546 or online at: https://www.wishuponaherofoundation.org/friends-sara
This benefit concert, sponsored by the Wish upon a Hero Foundation, will provide for the healthcare needs of Sara Ann Kronrot and support her family in crisis. Sara Ann is an eight year old who suffers from a brain injury that caused severe Cerebral Palsy.
NYC's KIDZ THEATER Broadway Spectacular! is an hour-long production that will feature some of the New York region's most talented young dancers and singers, ranging in age from 14 to 18. The show features super fun solos, duets and group numbers from Thoroughly Modern Millie, Oklahoma, Hercules, Joseph and the Amazing Technicolor Dreamcoat, Rent, Songs for a New World, and Kiss Me Kate, just to name a few.
KIDZ THEATER was founded by renowned artistic director Kristen Caesar, who continues to lead its aspiring stars. This is a one hour show packed with dazzling singing and dancing in a full Broadway revue. KIDZ THEATER will be taking this show to Disney World this summer! Some recent KIDZ THEATER grads featured in the show, will be the stars in the upcoming new TV show The Next Big Thing on the Oxygen Cable Network due out this May.
Further tax deductible donations for Sara Ann Kronrot can be made through Paypal at https://www.paypal.com/cgi-bin/webscr?cmd=_sxclick&hosted_button_id=LWZYWCXY6ZXXY
or mailed to: Collingswood Cares/Sara Fund, PO Box 172 Collingswood, NJ 08108. Sara Ann's family extends their heartfelt thanks!
Contact:
Melissa Perry
mobile – 267-241-6710
melisma@comcast.net
or
Barbara Leap
PH: 856-842-9615
tofuyum@yahoo.com