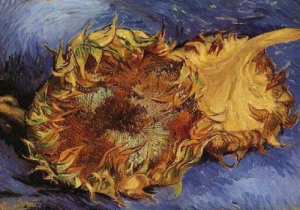 We met Hal Geiseking in the Philadelphia Museum of Art on May 3rd when Sara Ann's God parents insisted that she see the Van Gogh collection. She was taken by the first large painting called Sunflowers. I put on her glasses and held her head so she could look up to see the painting. She studied it an unusually long time. She really didn't want to leave it to look at the others but eventually did. Mr. Geseiking stood behind us. He was touched by our small child's interest in the works of art. He introduced himself to Grand Pop who was also with us. They laughed because both their names were Hal. He asked if he could write about his experience watching Sara Ann, explaining that he wrote professionally. We said yes. His article is below. It can also be found on his blog at:  http://www.hardtimes-ebookstore.com/art%20girl.htm
Through the eyes of a child an article by Hal Gieseking
How a young girl in a wheelchair who couldn't talk
showed me a new way to appreciate art – and life
On the weekend of May 1 my wife and I were on a wonderful Muscarelle Museum of Art Members Trip that included a private tour of the Philadelphia Museum of Art's final day of the spectacular van Gogh Up Close exhibition. Our spirited gallery guide, Jenna Carey, drew our group's attention to van Gogh's use of brief horizons at the top of many paintings, his use of heavy strokes applied by brush and thumb, and his adaptations of Japanese prints' lack of perspective and large blocks of solid flat colors. It was a great presentation, warmly applauded by our group.
I stayed behind to look at the paintings again when I saw a tiny girl in a wheelchair being pushed by her mother who stopped the chair at each painting. The mother tenderly lifted the child's head, guiding it to let her see the whole picture. When she was looking at van Gogh's Sunflowers, her small hands began to wave in circles, almost as if she were conducting the energy flowing from the thick glowing petals.
I was so intrigued by her rapt attention that I went up to her mother and asked, "What is your child's favorite so far?"
"Sara can't talk but she can moves her hand forward to mine to say 'yes' or back to say 'no.' When she was looking at the Sunflowers, she kept pushing her hand to me, over back over and over. She really liked that painting.
"She paused longest in front of paintings that were brighter, had more cheerful subjects and ones that had a lot of movement. She loved the one of the huge haystacks that looked like dancers. She loves color, and the wavy lines. She did not like the rain painting at all or any of the sad ones. She wanted to study about eight of the paintings for a very long time. Later when I asked her to write to me (she writes…a real miracle) what it was she was studying she wrote 'the brush movements'. She was so pleased by the paintings."
I applied Sara's criteria to the van Gogh paintings I looked at and found I agreed with her. I told the mother I wanted to know more about her remarkable daughter. She gave me her name and website. On the website http://friendsofsara.com I discovered what a miracle child I had watched. When she was born, she was totally blue, without breath and barely alive. The doctors diagnosed she had severe brain damage and cerebral palsy. They believed she would be blind, deaf, and incapable of movement on her own. Her parents were urged to consider hospice care or sending her to an institution.
But her mom and dad believes in faith and devoted their lives to caring for and curing Sara to see what love, prayers and help from friends (including volunteers who would come in to help move her arms and legs).
Now eight years later she can write words, has learned the alphabet, and loves to paint!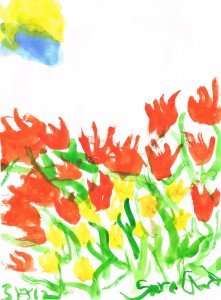 Somehow the bright solid colors and wavy lines of Sara's paintings reminded me of Japanese prints of the van Gogh paintings I had just seen.
Thanks Sara for the lessons in art and living.
Hal Gieseking, former Consumer Editor, Travel Holiday and past President of the Society of American Travel Writers