Ways to Help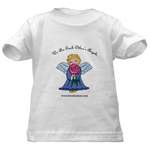 In 2006 the goal is to raise $30,000. We hope to include two new programs to help Sara Ann with her mobility this year. We are asking for 1000 friends to send $30 each to help us reach that goal by Christmas of 2006. All contributions will go directly into Sara Ann's Medical Trust Fund. See below for other ways to help.
In the year 2004, the Friends of Sara contributed over $20,000 to fund Sara Ann's treatments. In 2005, with a very large donation from St. Matthew Lutheran Church of Moorestown, NJ and corporate matching grants along with many, individual donations, we reached our goal of $20,000. (Go to the blog to read about the fantastic gains Sara Ann made from her treatments.)
You can help! Please make a
Any amount helps us get by! 
If you donate, thank you so, so much!
If you would like to mail a donation (THANK YOU!), please mail to
Sara Ann Kronrot
P.O. Box 172
Collingswood, NJ 08108
There are more ways to help!
1) Buy  from our web store. You can even find artwork by Sara there!
---
2)  Purchase products from the websites below. They donate a % of profits to Sara's Medical Fund!
---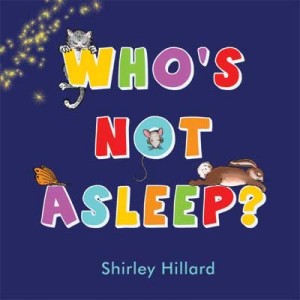 Mamoo House: publisher of "Who's Not Asleep" and "One Big Hug", both of which were written Shirley Hillard, Sara's grandmother.(10% to Sara)
The story behind writing WHO'S NOT ASLEEP, from Shirley Hillard
"When I first started this book, my daughter, who had given up on ever having children, became pregnant. We were all overjoyed. But her baby, a little girl named Sara, was born with cerebral palsy, and was not expected to live. The doctors said if she did live, she probably wouldn't see or hear or speak or walk. Those     early months of her life, when every day was a crisis, I continued to      work on "WHO'S NOT ASLEEP?", and dedicated the book to her, ("To     Sara, who is a miracle in every way") not knowing if she would live long enough to see it.Just after "WHO'S NOT ASLEEP?" was published, nearly one year after    Sara's birth, my daughter read it out loud to her. Sara was able to see  the pictures, hear the words, and smiled as she listened. Although Sara  is still unable to sit up or stand, we are hoping for more miracles."
---

Buy sheet music from Sheet Music Plus. They donate 8% of all orders!
---
3) Volunteer to help Sara directly, in Collingswood, New Jersey! 
---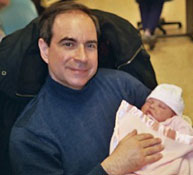 Volunteers are needed every day to help Sara Ann with her patterning work. It must be done with a minimum of 2 people and preferably 3 people, several times, over the course of the day (from 4 to 10 hours depending on her toleration level).Also Mom and Dad are very overwhelmed and much in need of office help for Sara's accounts, website maintenance, yard and house help.
---
4) Put out a can to help us raise funds. We will drop one off or mail one to you. They are decorated with wrapping paper, a photo of Sara and her story.  These work best near an office coffee break room next to candy machines, in grocery stores, drugstores, Chinese restaurants, bakeries, and/or  churches. They are best whereever folks receive or get out small change. We will send you the can if you will monitor it. It will need to be checked and picked up or replaced every couple of weeks.