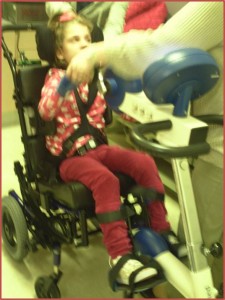 Sara Update 54 July 2011 HAPPY Stuff – a Break through Month
The Pen Pal
The month of July was a break through month for us…..breaking out of a long heavy dark cloud into a new world. (It's been unbelievably rough with little to no nursing since January.) But the positive changes really began at the end of June, when Sara Ann's teacher Danielle, suggested that Sara have a Pen pal. She found her one in the 7 year old student Sonia from Newby, the local elementary school just one block away.
The little girl wrote, "My name is Sonia. What's yours? My favorite color is….what is yours? My favorite book is…. and my favorite subject is ….what's yours? Why are you in a wheel chair? Can I meet you?"
Sara and I began her letter of response. Before she answered Sonia, Sara had questions for me….for the first time. "Why am I crippled?" she asked. "Where was I born? What happened at my birth? Where did I come from, a seed or an egg?" (We had just studied about eggs for Easter and also fish eggs in an Eric Carle book and then she had planted sunflower seeds with her teacher.) Suddenly we were having whole conversations. She no longer wanted to draw the way she had previously. She wanted to have talks via the notepad with me. We were really communicating now. Wow and wow and wow again!!!
I told her she had a special mission from God and that she was one of God's VIPs but Hugh said, "Tell her she's not crippled. She is brain injured….that's different. That can be fixed." The important thing was she was individuating…she no longer saw herself as an appendage of me….was no longer bonded with me like a baby but began to see and think of herself as a person in her own right. It was so huge. She wanted to go to school and play with other children. She kept writing to me over and over, "I want to go to school."
World turned Upside down
Our whole world as we'd known it up to this point seemed to suddenly split apart. We couldn't maintain this solitary bubble way of living anymore. Hugh and I were totally spent, our energy, resources, and spirits. Something had to change. Well guess what? Sara was/ IS leading the way. I began to think, "She gets these colds anyway and ends up in the hospital in the winter…she may as well be going to school when she can. We can't all continue living so isolated from the real world. She's growing up…it's time for change." It's was time for me to change too…to ask God to show me how we could move forward. To repent of my despair and lack of faith and in the immensity of God's forgiving love find the way out of the dark. I think in my exhaustion, I'd stopped letting that higher power in. I'd shut out hope. "Gee I guess I'd better let God be God and stop trying to do this all myself. Maybe we'll actually get some more help if I'll open my heart back up". I was so numb…almost eight years of this and this last year with so little nursing and our funds running out. It, by far, had been the hardest. Everybody does have a breaking point. I think we were reaching ours. You can get in some pretty crazy mind sets being a 24/7 care taker and living in that fight or flight state a little too often. You've heard that old saying, "If it ain't broke, don't fix it"…well I think there must be another one, "If it is broke, why don't you fix it?" Without nursing we've just barely survived this last nine months or so…Mom and Dad are kaput! Our old way of doing things as of this year was broken, no doubt about it but it never occurred to me that maybe Sara had the answer for the fix…school!
Sara Makes a Wish
In mid-July we got a call from The Make a Wish Foundation. Sara was eligible and she would be granted a wish! They came to visit on my birthday, to interview her and find out exactly what her wish was. She asked for a "quad bike". She'd been drawing pictures of the bike since January when she last rode on it at the Hyperbaric Oxygenation Center. It's really a stationary bike called a "Quadriciser" that exercises all four limbs. They are frequently used by stroke victims. In Lancaster at the H O Center, she rides for 2 hours at a time. In fact, it's hard to get her off of it. In lieu of that wish her 2nd wish was a trip to see the whales. We started planning the whale trip. We felt certain they'd never give her that very expensive bike even if it was what she most wanted and needed.
Your Wish is My Command
But Two weeks later, just like the genie in Aladdin, they called to say her wish had been granted!!! I don't know if I've ever felt more elated about any gift in the whole world. This bike will put her body in the walking pattern, which will activate all the systems of her body. It could even make swallowing, talking and crawling patterns start to function. It will help her breathe deeper which should keep her out of the hospital. It will make her stronger, build her trunk muscles, and make her more coordinated and maybe even someday help her to walk. Plus it will be something active and FUN for her! You know when you have a child like this you are either giving up or you are just holding your breath for years at a time waiting for that day that your prayers are answered. With the thought of this "bike", I'm breathing just a little bit more than I was.

Plenty to Celebrate
That birthday night, Steve and Anna came over to celebrate. They reveled when they saw the art show book of Sara Ann's pictures we've collected. Hand-over-hand, I kept the pen from falling out of her hand, as she demonstrated her writing. "Are you my God parents?" Sara Ann asked. "Yes!" they cried. "Will you take me to the zoo?" she was quick to add. "Of course!" they bellowed. Anna grabbed her and said "I love, love, love you Sara Ann." She wrote her back, "I love you more." So they played the "more", "no more", "no even more" game. Dad was sitting watching all of this joy. I said to Sara, "What about Dad?" She wrote to him, "I love you most!" Then Anna asked her, "Why do you want to go to school Sara Ann?" "Because I want to communicate better," she responded. "Why?" Anna continued. "Because I want to tell my story," she wrote. "She is no longer a baby!" Anna squealed. "You are all grown up!" Not long after, we took her to get a new sassy haircut and Dad put her new car seat graciously given to us by the Haddonfield Lions Club in the car. We chucked the old baby stroller and got started using her big kid's stroller. The $1500 stroller parts were supplied through a dime drive of the Quixote Club, a New Jersey high school volunteer group covering over 6 counties. The kids collect dimes for charity from their friends in the lunch room. Last week her new larger wheel chair came in. I can't believe she's already grown out of her first one but she is growing fast at 56 # and 4 feet tall. Soon to be Little School Girl
Things are looking up. God has blessed us. Out of our adversity, having had almost no nursing, came my opportunity to have more time with Sara, so I could work with her on writing and communicating. People have stopped ignoring her. She is a person with an opinion. She matters and now she knows it. It's the communication that is allowing her to go to school. She is begging to go, writing to me, asking for it…isn't that amazing? She is growing up and we are taking her cues.
The Quadriciser comes soon. Don't worry we'll have her ridin' it every day. Can't wait to see what happens next!
Much Love, Melissa, Hugh and Sara Ann
Contributions to Sara Ann's 1000 Angel Campaign can be made to:
Friends of Sara, PO Box 172,Collingswood, NJ 08108
For tax deduction make out checks to :Collingswood Cares/Sara Fund
Collingswood Cares for it"s Own Critical Children is a 501(c3) started by Mayor Jim Maley and his wife of Collingswod, NJ. PayPal contributions are also accepted www.friendofsara.com All of these contributions go towards exorbitant medical bills and towards therapies that will help Sara Ann have a better future.
We wish to give a very special THANK YOU to so many of you who have already contributed. Sara wouldn't be making these strides without your help. You've made it all possible!